Following this exchange,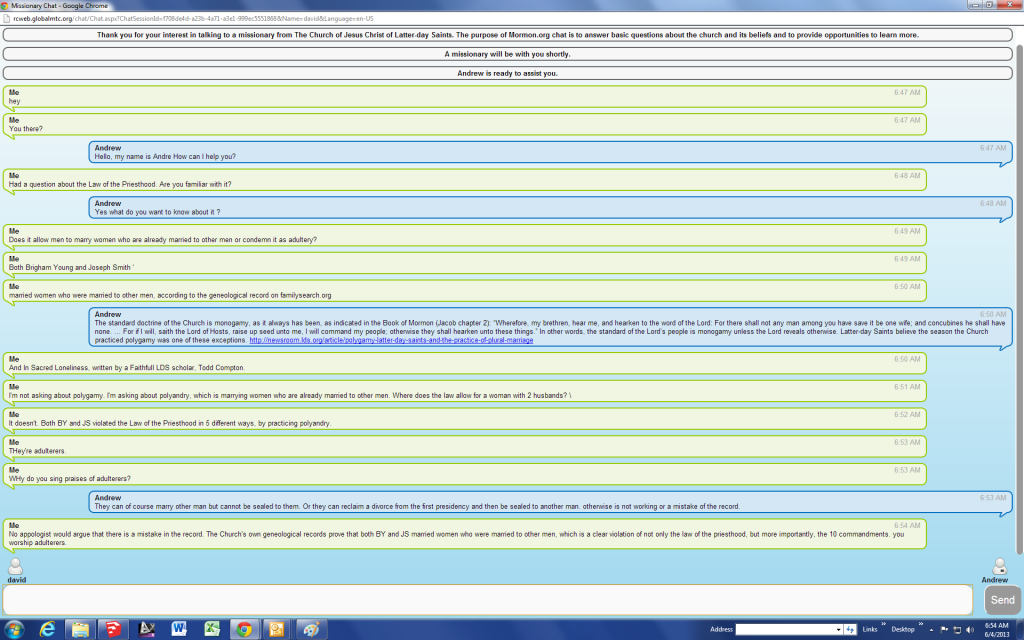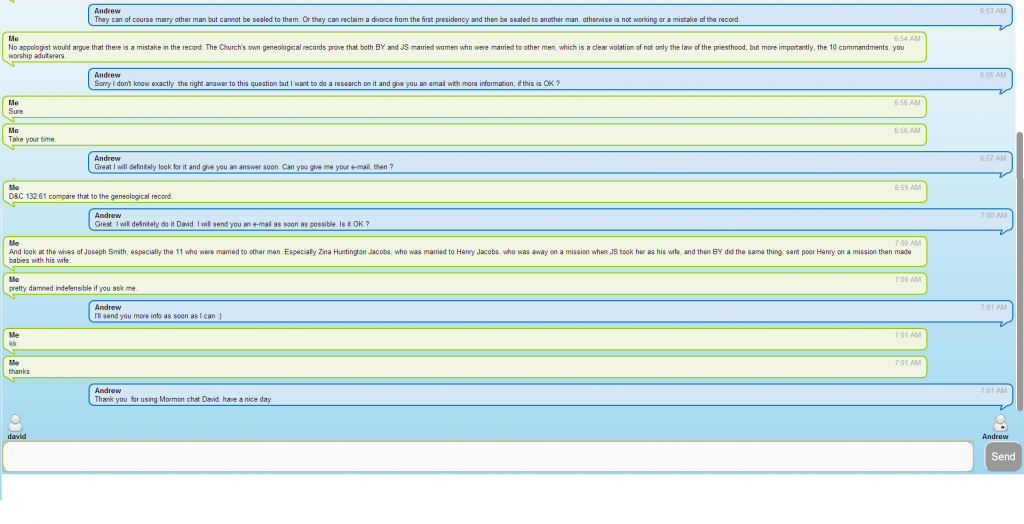 I got this in my email,
Hello Kori,

My name is Andre I am the missionary you chatted with a few days ago on Mormon.org asking about the law of the priesthood and Joseph Smith having many wives that were sealed to him while married to another man.

I'm sorry that it took me so long to answer, usually I'm quite quick, just got too much to do this past few days. :) So I was looking through all the evidences and genealogy records of these people and especially as you mentioned Zina Huntington Jacobs, who was married to Henry Jacobs. We know that she was six months pregnant by Henry, and continued to live with him even after being sealed with Joseph.

First of all I want to clarify that there is no evidence that Joseph EVER cohabited or had intimate relations with ANY of these women. No children from these marriages have ever been identified.

At the time that celestial marriage was introduced, it was possible to be married for time to one person and sealed for eternity to another, so it would affect Joseph and this woman's lives only afterlife.

As other "wifes" Zina "did not merely bow to Smith's pressure but obtained her own testimony of polygamy by scripture study and by personal revelation. Of course we haven't been there to know all the story as it was but we cannot judge people for something we cannot understand at this time. Just like Peter denied Christ 3 times we would think that he could become son of perdition but we all know how great he was.

I hope that's answer to your question, if not give me an email back so we can have a more deep discussion on this topic.

Sincerely,

Andre
I don't have time to respond right now, but I can't wait to supply this Mormon with links to completely destroy his illusions.